The Grenfell Tower fire began shortly before 0100 on Wednesday 14 June 2017, and killed 72 people. It quickly became clear that the fire had (surprisingly and unusually ?) spread from apartment to apartment via cladding on the outside of the building. Questions were therefore immediately asked about
whether risks were taken in the procurement of the cladding - in particular to save money?
whether there had been other unnecessary risks taken in the recent refurbishment of the building? and ...
whether there had been regulatory failings - in drafting (or failing to revise) building regulations, or in materials testing, or in local authority etc. approvals and inspection?
Or maybe the extent of fire wasn't surprising or unusual? It turned out that there had been plenty of opportunities to learn from previous similar fires.
The government has established a formal public inquiry into the disaster, chaired by Sir Martin Moore-Bick. It has very wide terms of reference:- To examine the circumstances surrounding the fire at Grenfell Tower on 14 June 2017, including [various issues but not excluding anything] and ... To report its findings to the Prime Minister as soon as possible and to make recommendations.
The Metropolitan Police have separately mounted a major criminal inquiry.
The Equality and Human Rights Commission launched its own inquiry (Following Grenfell) in December 2017, looking at the human rights and equality dimensions of the tragedy, and seeking to determine to determine if the State is fulfilling its duties under human rights and equality law. It will look at possible failings in seven areas:
The state's duty to investigate 
Right to life
Inhumane and degrading treatment
Housing

Access to justice
Rights of children
Equality
All these three inquiries will almost inevitably identify human or political error as the immediate cause of the tragedy.  But human error is merely symptomatic of trouble deeper inside the system.  It is of course necessary to try to find where people went wrong, but even more important to find how people's assessments and actions made sense at the time, given the circumstances that surrounded them. It was therefore good that the government separately established an Independent Review of Building Regulations and Fire Safety chaired by Dame Judith Hackitt, whose terms of reference were much more detailed. She has already published her interim report - see below.
Systemic, Cultural and Leadership Issues
One of the most sensible public comments was made less than 48 hours after the fire by Gill Kernick , a professional involved in helping companies avoid devastating accidents in high risk industries. Gill had previously lived in Grenfell Tower and now lived in a nearby tower block. A transcript of the second part of her interview is below, and Gill subsequently summarised her views in a blog published by Policy@Manchester.
A short summary of that blog is as follows:-
The Need for a Systems-Based Approach


The reaction to major accidents is often that they could not have been foreseen; that the nature of 'low probability' events somehow means we can't prevent them. But it is now well understood that a major accident is not the result of a single event; it is a systemic outcome resulting from several latent (pre-existing and often hidden) conditions, usually triggered by an active failure (current failure e.g. human error or an ignition source) aligning at a moment in time that leads to horrific consequences.


One of the most effective ways of avoiding major accidents is therefore to deploy what is often referred to as mindful leadership or chronic unease; that is looking to imagine and fear the worst thing that could go wrong. Indeed, when these horrendous events do happen, there has too often been a shocking failure to learn. For example, in the Texas City disaster, almost every aspect of what went wrong had gone wrong before, either at Texas City or elsewhere.  There may have been a similar learning disability around Grenfell: how is it that little notice appears to have been taken of cladding fires on high rise buildings in France, the UAE and Australia?

Indeed, most inquiries into previous major incidents have uncovered many instances of policies and procedures that are outdated, inaccurate and contradictory. Holding the view that 'policies and procedures' keep us safe, and the problem is the person or operator that didn't follow them, is far too simplistic and will not lead to understanding deeper systemic issues.  It is instead vital to understand the underlying drivers of behaviour including reward and measurement structures (both formal and practised). In Texas City, for instance, incentives were focussed around financial performance with some incentive around personal safety metrics. Attention to process safety or the prevention of major accidents was not encouraged through organisational reward and measurement structures.

It will also be necessary for the Grenfell Inquiries to consider leadership and cultural issues. Indications from residents (both prior to and in the response to the incident) suggest that there may have been a transactional, one-way leadership style that did not welcome or fully understand the views and concerns of residents.

[In a later interview Gill added detail to this leadership/cultural advice: In safe cultures there is a drive to feature both equality of life and equality of voice. All life matters and all life matters equally. And all voices are heard, and particularly the voices of those without power and authority.]

To summarise, it would be a grave mistake to identify human error as the cause of the tragedy.  Human error is symptomatic of trouble deeper inside the system.  It is of course necessary to try to find where people went wrong, but even more important to find how people's assessments and actions made sense at the time, given the circumstances that surrounded them.


Will the Inquiries' Recommendations be Implemented?


Unless particular care is taken, even the best recommendations will not ensure learning. Typically, only around half of the recommendations made by a formal Inquiry will be implemented. In many cases the corrective actions will either not be taken or will not have the impact intended. One recent example is that the strengthening work recommended as a result of the collapse of Ronan Point in Newham (1968, killing four people) was never carried out at Ledbury Towers, South London. But the Cullen Report into Piper Alpha did lead to lasting systemic change. All the 106 recommendations made were accepted. Lord Cullen said: "The industry suffered an enormous shock with this inquiry, it was the worst possible, imaginable thing. Each company was looking for itself to see whether this could happen to them, what they could do about it. This all contributed to a will to see that something better for the future could be evolved." The Inquiry team and the Hackitt Review should therefore build on Cullen and establish up a process for the successful implementation of their recommendations and so ensure lasting change. Failure to consider the implementation of recommendations could severely limit their impact.
Gill is now maintaining a close interest in both inquiries with a view to ensuring that they establish a 'no blame space', that sensible lessons are learned, and that their recommendations are actually implemented. She published a thoughtful paper in 2018 focussing on:
What prevents regulatory and legislative systems from learning?
Regulation and the nature of catastrophic risk.
Ensuring equality of voice between those with power and those with less power.
The Hackitt Review
Dame Judith Hackitt published her interim report admirably quickly in December 2017. It was damning:
'This tragic incident should not have happened in our country in the 21st century. We now all have the opportunity to respond in a way that will lead to lasting change that makes people safer in the future. I have seen the improvements in safety in the oil and gas industry that followed the Piper Alpha oil production platform disaster in 1988 and I hope this review can have a similar impact.

As the review has progressed, it has become clear that the whole system of regulation, covering what is written down and the way in which it is enacted in practice, is not fit for purpose, leaving room for those who want to take shortcuts to do so.

I have been shocked by some of the practices I have heard about and I am convinced of the need for a new intelligent system of regulation and enforcement for high-rise and complex buildings which will encourage everyone to do the right thing and will hold to account those who try to cut corners.

[My findings are that]

a culture change is required - with industry taking greater responsibility for what is built - this change needs to start now
the current system for ensuring fire safety in high-rise buildings is not fit for purpose
a clear, quick and effective route for residents to raise concerns and be listened to, must be created'
Speaking after the report's publication, Dame Judith told MPs it was "extraordinary" that although the fire service was consulted over building projects its advice was frequently ignored by contractors and property owners. She said she had been taken aback by the lack of record-keeping around building design and changes in specifications as projects progressed; the absence of a rigorous accreditation system for people in important roles, including engineers and fire safety assessors, and the fact that regular fire safety assessments were required but did not have to be reported to anyone. It was of concern that building materials could be switched for a different product on the basis of a secretive "desktop study" rather than physical fire testing.
Her final report was published in May 2018. Her principal recommendations were that their should be a new regulatory framework
focused, in the first instance, on multi-occupancy higher risk residential buildings (HRRBs) that are 10 storeys or more in height;
designed to:
Create a more simple and effective mechanism for driving building safety
Provide stronger oversight of dutyholders with incentives for the right behaviours, and effective sanctions for poor performance
Reassert the role of residents
Ensure that those who procure, design, create and maintain buildings are responsible for ensuring that those buildings are safe for those who live and work in them.
Incorporate Government-mandated and clear outcome based requirements for the building safety standards which must be achieved.
Enable the regulator to hold dutyholders to account, ensure that the standards are met and action taken against those who fail to meet the requirements.
Enable residents to actively participate in the ongoing safety of the building and recognised by others as having a voice.
and also:
a new Joint Competent Authority comprising Local Authority Building Standards, fire and rescue authorities and the Health and Safety Executive to oversee better management of safety risks in these buildings (through safety cases) across their entire life cycle ... as well as ...
a mandatory incident reporting mechanism for dutyholders with concerns about the safety of an HRRB.
Despite being pressed to do so, Dame Judith did not say that flammable cladding should never be used on high rise buildings. She appears to have felt that such prescriptive regulation would not be effective in a fast-changing world. Detailed regulations of this sort would not protect us from catastrophic risk. The next Grenfell will not be caused by cladding. Regulators and others instead need to constantly worry about what else might go wrong. ...
... But the Government announced the same day that it was minded to introduce such a rule.
The Failure of Building Regulations
In March 2018, Inside Housing published a pretty good summary what had gone wrong in building regulation. (Please contact me if that link fails to work as I have saved a copy of the article.)
And there were disturbing reports in September 2018 that staff had been sacked for complaining about being required to manufacture non-fire safety compliant cavity wall insulation - other than when an announced inspection was made by a certification body or when they needed to send samples off to be tested.
One obvious answer is to increase the number of unannounced inspections, but there are now so many inspection bodies, all competing for work, that none of them want to annoy their 'clients' by inspecting them too effectively.
There is a similar problem in building inspection where many private sector companies have been approved, since 1997, to carry out building regulation inspections on behalf of developers - such inspections having previously been conducted by public officials. The Guardian's Robert Booth, for instance, drew attention in September 2018 to numerous examples of inadequate inspection, one of which forced the expulsion of the residents of a recently completed block of flats in Manchester. Faults included french windows opening onto thin air and inadequate smoke ventilation.
The Failure to Learn from Fires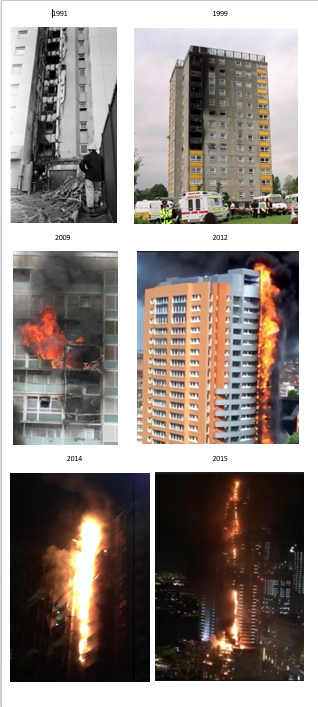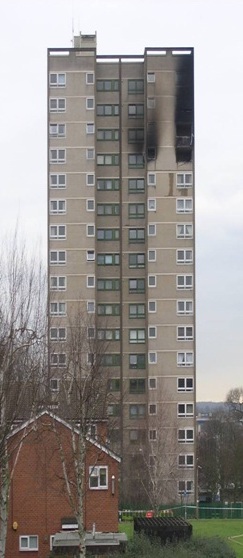 Inside Housing drew attention in particular to what appear to have been persistent failures to learn from, or at least to take the actions recommended by those who looked into the causes of, similar fires in previous years, including
Summerland Leisure Centre, Douglas IoM, 1973
Knowsley Heights, Liverpool, 1991
Garnock Court, Irvine, Scotland, 1999 - 1 dead
Harrow Court, Stevenage, 2005 - 3 dead
Lakanal House, London, 2009 - 6 dead
Mermoz Tower, Roubaix, France, 2012
Lacrosse Tower, Melbourne, Australia, 2014
Address Downtown Hotel, Dubai, 2015
Shepherd's Court, Shepherd's Bush, 2016
(Harrow Court is the first picture on the right. Click on the image on the far right to see a larger version of the photos of another six of the above fires.)
Strong warnings had been given by the Fire Brigades Union and others in evidence to the House of Commons Environment etc. Committee as long ago as 1999, following the Garnock Court fire. An opportunity certainly appears to have been missed when that committee reported later that year. The committee concluded that:
"The evidence we have received during this inquiry does not suggest that the majority of the external cladding systems currently in use in the UK pose a serious threat to life or property in the event of fire."
Unfortunately this conclusion appears to have reduced the impact of their subsequent conclusion that:
"Notwithstanding what we have said ... above, we do not believe that it should take a serious fire in which many people are killed before all reasonable steps are taken towards minimising the risks. The evidence we have received strongly suggests that the small-scale tests which are currently used to determine the fire safety of external cladding systems are not fully effective in evaluating their performance in a 'live' fire situation. As a more appropriate test for external cladding systems now exists, we see no reason why it should not be used."
Failure to Learn - General
More generally, this failure to learn appropriate lessons - or to forget such learning soon after formal inquiries have been completed - seems to have been a persistent problem for several decades. (See for instance Dr Kevin Pollock's report for the Cabinet Office on the persistent failure to learn lessons relating to the interoperability of emergency and other services.) No-one, and no organisation, seems to be responsible for following up the recommendations of public and similar inquiries.
Here are some extracts from Dr Pollock's conclusions:
Common causes of failures identified within the reports include:

Poor working practices and organisational planning
Inadequate training
Ineffective communication
No system to ensure that lessons were learned and staff taught
Lack of leadership
Absence of no blame culture
Failure to learn lessons
No monitoring/audit mechanism
Previous lessons/reports not acted upon

The findings of this research echo Lord Cullen's comments in his report on the Piper Alpha explosion, when he set out the basic and common principles required in any system when managing to prevent incidents ... these are summarised as:

Commitment by top management – setting the resilience standard and philosophy and communicating to staff
Creating a resilience culture – safety is understood to be, and is accepted as, the number one priority
Organisation for resilience – must be defined organisational responsibilities, and resilience objectives built into on-going operations, and part of personnel performance assessments
Involvement of the workforce – essential that the workforce is committed and involved in resilient and safe operations, and are trained to do and do work safely, understanding their responsibility to do so

Conclusion: The consistency with which the same or similar issues have been raised by each of the [many] inquiries [since 1986] is a cause for concern. It suggests that lessons identified from the events are not being learned to the extent that there is sufficient change in both policy and practice to prevent their repetition. The overwhelming number of recommendations calls for changes the doctrine and prescriptions are often structurally focused, proposing new procedures and systems. But the challenge is to ensure that in addition to the policy and procedures changing, there is a change in organisational culture and personal practices. Such changes in attitudes, values, beliefs and behaviours are more difficult to achieve and take longer to embed. However, failure to do so will result in the gathering of the same lessons which repeat past findings rather than identifying new issues to address and continuously improve the response framework.
Very similar conclusions were drawn in the IfG's 2017 report on public inquiries. The IfG found that of the 68 public inquiries that had taken place since 1990, only six had been fully followed-up by select committees to see what government did as a result of the inquiry. The report also finds that inquiries take too long to publish any findings, with one in seven taking five years or longer to release their final report. To ensure public inquiries can lead to real change, the report called for: 
government to systematically explain how it is responding to inquiry recommendations
select committees to examine annual progress updates from government on the state of implementation
public inquiries to publish interim reports in the months, rather than years, after events
expert witnesses to be involved in developing the recommendations of inquiries.
Another 2017 example of failure to learn was uncovered by the inquiry into the murder of Bijan Ebrahimi. The inquiry found that the Bristol police had been guilty of 'institutional racism' - nearly 20 years after the massive publicity that surrounded the same finding by the 1999 MacPherson report into the Metropolitan Police's handling of the Stephen Lawrence murder.
Complexity
I suspect that Dan Corry identified an interesting issue when he blogged as follows:
'One of the things which struck me was the amount of complexity which surrounded both the cause of the fire spreading so fast and the subsequent attempt to look after survivors in a decent way. There were multiple agencies, regulators, commissioners, providers, subcontractors and suppliers involved and, in the end, finding out where it all went wrong is going to be tricky. For the follow up there seemed to be a vacuum between the local council, the tenant management organisation and the national government with the local charities and community groups wanting to feed into something but finding no one willing to step up. Some of this is incompetence and neglect or worse and heads have rolled. But it also points to another issue - are we making things too complex?'

Prosecution?
There were immediate and understandable calls for those responsible for the building to be prosecuted, including on manslaughter charges. But prosecution would not reduce the chances of future similar disasters. It might also seriously impede the Grenfell Tower Public Inquiry, and Dame Judith's Inquiry into building regulations and fire safety,, as those threatened with prosecution will be very reluctant to speak freely or at all. Worse still, prosecutions strengthen the belief that there has been human error, whereas it is unfortunately all too true that an investigation that ends up blaming human error will have been a waste of time, for no real lessons will have been learned.
The truth is that no-one seriously thinks about the risk of prosecution when making construction or regulatory decisions, so prosecution cannot act as an effective deterrent to poor decision making. As Gill Kernick has pointed out (above), the cultural issues and the competing tensions are very complex and can only be addressed via better regulation and enforcement.
The 'prevent or punish?' question is important in many regulatory areas and a longer discussion is here.
The Grenfell Community
Some media and political comment has portrayed Grenfell's residents as deprived, and it is true that the wider North Kensington area ranks as amongst the 10% most deprived areas in the UK, in stark contrast to other areas of Kensington and Chelsea. But Grenfell's residents did not, and do not, regard themselves as downtrodden. It was a strong mixed community and included many with good incomes and education. Those who have heard the survivors speak in the months following the fire cannot fail to have been impressed by their dignity and the clarity with which they express their feelings and their concerns. Survivor Mohammed Rasoul put it well: "Everyone says, you know, 'oh, it's the most deprived area in London', but we might, might have been deprived materially, but not morally, not emotionally."
It will be interesting, of course, to see whether the Inquiry discovers evidence that the Council and/or other organisations dealt with Grenfell's residents in a condescending way, oblivious of the paramount need for all voices to be heard, and particularly the voices of those without power and authority.
Gill Kernick's Interview
'Today' Radio 4
16 June 2017
Matthew Price (Interviewer)  You were in some of those Residents Associations meetings of the Grenfell Tower. We know that people were expressing their concerns. How do you feel now about the way in which the residents conducted themselves in those meetings? Do you think they did everything they could to get their concerns across?

Gill Kernick   ... there was one particular meeting I went to which was just where they were talking about the refurbishments. And the residents were very angry. I was a resident at that point, very angry, and in my experience the TMO was really not listening to their concerns. It was a very aggressive meeting. And one of my big regrets is at the time I thought this is not right. And in subsequent interactions with the TMO, because I now live in Trellick (MP in the nearby tower block) I've thought 'I need to do something, because this is not right'. The relationship between the management and the residents is not right.

MP  The TMO is the tenancy management organisation which says it is aware of concerns and that at the moment is focused on the immediate needs of people here and will be looking at the long term implications. Your work, you work, you know about large scale disasters, you work in high hazard industries like oil and gas to try and make sure accidents don't happen. Are there lessons that can be drawn from your work with those oil and gas industries that you think might make sure that an accident like this can't happen again? What needs to be done?

GK  Yes, I think first, .... it's been quite difficult looking at this from a professional perspective as I think there is a lot of lessons that could have been learned that weren't. I think there's two that particularly stand out for me. Number one is in major accidents you typically find cultures where people do not feel free to speak up or are not heard and from what we're hearing there is a clear link to that. The residents were not listened to and were not responded to or taken seriously so I think that is one thing from a cultural perspective that's common in a lot of major accidents. I think another thing is we have to get beyond the blame to the systemic and cultural and leadership issues that actually led to decisions being made. So if we just end up going, oh well, it's because of the cladding or it's because of this, and yes we need to hold people culpable for what they've done but there's broader systemic issues that need to be addressed.

MP  Meaning that there needs to be greater communication and channels of communication?

GK  Greater communications, channels of communication, we need to begin to understand what kind of competing tensions people are facing. You know, why did they choose the cheaper cladding not the more expensive cladding? What do you need to do to create a culture and a system that is founded on true care? How do we take care of our people? Not how do we follow rules or save money.