Grenfell Tower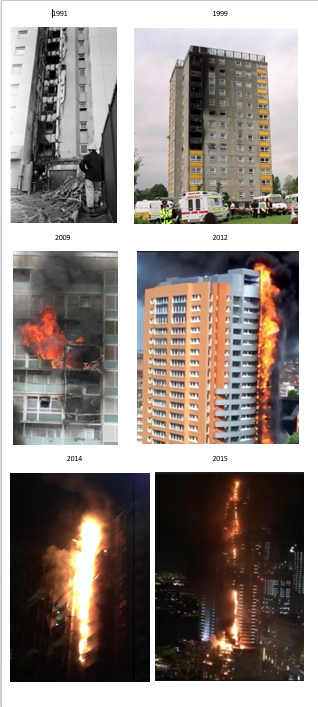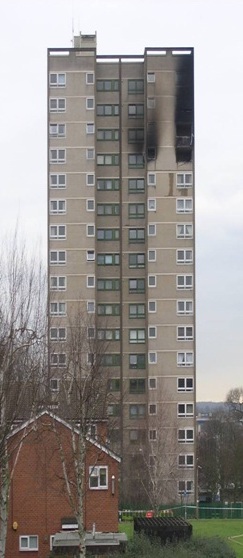 The Grenfell Tower tragedy drew sharp and worrying attention to the fact that there had been at least nine previous similar fires, from which it appears that few if any lessons had been learned, nor had much if any effort had gone into taking the actions recommended by those who looked into the causes of those similar fires - which included:
Summerland Leisure Centre, Douglas IoM, 1973
Knowsley Heights, Liverpool, 1991
Garnock Court, Irvine, Scotland, 1999 - 1 dead
Harrow Court, Stevenage, 2005 - 3 dead
Lakanal House, London, 2009 - 6 dead
Mermoz Tower, Roubaix, France, 2012
Lacrosse Tower, Melbourne, Australia, 2014
Address Downtown Hotel, Dubai, 2015
Shepherd's Court, Shepherd's Bush, 2016
(Harrow Court is the first picture on the right. Click on the image on the far right to see a larger version of the photos of another six of the above fires.)
Strong warnings had been given by the Fire Brigades Union and others in evidence to the House of Commons Environment etc. Committee as long ago as 1999, following the Garnock Court fire. An opportunity certainly appears to have been missed when that committee reported later that year. The committee concluded that:
"The evidence we have received during this inquiry does not suggest that the majority of the external cladding systems currently in use in the UK pose a serious threat to life or property in the event of fire."
Unfortunately this conclusion appears to have reduced the impact of their subsequent conclusion that:
"Notwithstanding what we have said ... above, we do not believe that it should take a serious fire in which many people are killed before all reasonable steps are taken towards minimising the risks. The evidence we have received strongly suggests that the small-scale tests which are currently used to determine the fire safety of external cladding systems are not fully effective in evaluating their performance in a 'live' fire situation. As a more appropriate test for external cladding systems now exists, we see no reason why it should not be used."
Failure to Learn - General
More generally, this failure to learn appropriate lessons from all sorts of previous tragedies - or to forget such learning soon after formal inquiries have been completed - seems to have been a persistent problem for several decades. (See for instance Dr Kevin Pollock's report for the Cabinet Office on the persistent failure to learn lessons relating to the interoperability of emergency and other services.) No-one, and no organisation, seems to be responsible for following up the recommendations of public and similar inquiries. Here are some extracts from Dr Pollock's conclusions:
Common causes of failures identified within the reports include:

Poor working practices and organisational planning
Inadequate training
Ineffective communication
No system to ensure that lessons were learned and staff taught
Lack of leadership
Absence of no blame culture
Failure to learn lessons
No monitoring/audit mechanism
Previous lessons/reports not acted upon

The findings of this research echo Lord Cullen's comments in his report on the Piper Alpha explosion, when he set out the basic and common principles required in any system when managing to prevent incidents ... these are summarised as:

Commitment by top management – setting the resilience standard and philosophy and communicating to staff
Creating a resilience culture – safety is understood to be, and is accepted as, the number one priority
Organisation for resilience – must be defined organisational responsibilities, and resilience objectives built into on-going operations, and part of personnel performance assessments
Involvement of the workforce – essential that the workforce is committed and involved in resilient and safe operations, and are trained to do and do work safely, understanding their responsibility to do so

Conclusion: The consistency with which the same or similar issues have been raised by each of the [many] inquiries [since 1986] is a cause for concern. It suggests that lessons identified from the events are not being learned to the extent that there is sufficient change in both policy and practice to prevent their repetition. The overwhelming number of recommendations calls for changes the doctrine and prescriptions are often structurally focused, proposing new procedures and systems. But the challenge is to ensure that in addition to the policy and procedures changing, there is a change in organisational culture and personal practices. Such changes in attitudes, values, beliefs and behaviours are more difficult to achieve and take longer to embed. However, failure to do so will result in the gathering of the same lessons which repeat past findings rather than identifying new issues to address and continuously improve the response framework.
Very similar conclusions were drawn in the IfG's 2017 report on public inquiries. The IfG found that of the 68 public inquiries that had taken place since 1990, only six had been fully followed-up by select committees to see what government did as a result of the inquiry. The report also finds that inquiries take too long to publish any findings, with one in seven taking five years or longer to release their final report. To ensure public inquiries can lead to real change, the report called for: 
government to systematically explain how it is responding to inquiry recommendations
select committees to examine annual progress updates from government on the state of implementation
public inquiries to publish interim reports in the months, rather than years, after events
expert witnesses to be involved in developing the recommendations of inquiries.
Another 2017 example of failure to learn was uncovered by the inquiry into the murder of Bijan Ebrahimi. The inquiry found that the Bristol police had been guilty of 'institutional racism' - nearly 20 years after the massive publicity that surrounded the same finding by the 1999 MacPherson report into the Metropolitan Police's handling of the Stephen Lawrence murder.