The Governing Boards of regulatory bodies will wish regularly to review the effectiveness of their organisation. When doing so, it is helpful to consider the following questions:
1. General Approach
As far as is compatible with the duties imposed by law, does the regulator leave the regulated free to live their lives as they wish and/or get on with their work, business or profession?
Are the regulated clear as to what is expected of them? (This is not always easy as the law may not be clear, and the law may not anticipate issues that may arise after the law is enacted. But clarity is vital and the goalposts must not be constantly shifting.)
Has the regulator done all it can to minimise the cost of compliance? Such costs include non-financial consequences such as the impact of regulation on the willingness of a business to innovate, or the willingness of volunteers to help a school, charity etc.
2. Over- or Under-Regulation?

Does the organisation achieve an appropriate balance between over- and under-regulation?

Under-regulation leaves too many loopholes that producers can avoid or evade

Over-regulation provides incentives to evade regulation, including

Note that:-
High levels of regulation can provide too much protection for large established firms relative to new entrants, and can foster corruption and collusion between producers and consumers to minimise the cost impact of e.g. building regulations.
The incentives almost always favour increases in the intensity and scope of regulation so as ...

to avoid obvious risks from under-regulation plus
to respond to understandable pressure from concerned lobby groups.

It may be necessary to involve the government/legislature in this discussion.
3. Resource Allocation

Does the organisation divide its resources appropriately between its four key functions?

Enabling - licensing/permissions to carry out certain activities.
Policing - enforcing compliance with legislation/regulations.
Advising - providing guidance to help entities understand and comply with legislation/regulations.
Educating & Informing - helping the public understand and exercise their rights.
4. Contradictory Pressures

Has the organisation discussed and chosen appropriate responses to the contradictory pressures identified by Harvard's Professor Sparrow in his book The Regulatory Craft?

"Regulators, under unprecedented pressure, face a range of demands, often contradictory in nature:
Be less intrusive – but more effective;
be kinder and gentler – but don't let the bastards get away with anything;
focus your efforts – but be consistent;
process things quicker – and be more careful next time;
deal with important issues – but do not stray outside your statutory authority;
be more responsive to the regulated community – but do not get captured by industry."
5. Independence

Is the organisation satisfied with the extent of its independence from government?  The following indicators may be relevant:
Legal status and powers
Can Ministers issue directions and/or does the regulator seek Ministers' informal agreement to controversial decisions?
Strength of character and experience of senior staff
Robustness of Board appointment process
Ministers ability to dismiss Board members (other than for criminality or insanity) 
Does the Board have fixed term (3-5 year) appointments, not renewable or renewable only once?
A more detailed discussion of this subject may be found here.
6. Accountability

Is the organisation sufficiently accountable for its decisions:
to Parliament
to the Media
to the Public
and to the Courts?
In particular, are its decision processes accessible and transparent? Does it accurately and clearly communicate the analysis that underlies its decisions? Is it candid about the compromises that may be needed?
Note that accountability involves explaining why the regulator has taken its key decisions. It does not mean 'obeying orders' - other than those contained in legislation and legal decisions.
A more detailed discussion of this subject may be found here.
7. Ethics
Has the organisation carried out, and implemented the recommendations of, a recent ethics health check as recommended by the Committee on Standards in Public Life (CSPL)? The health check should look at issues such as:
conflicts of interest
hospitality, gifts etc.
'revolving door' and post-employment policies, and
codes of conduct - not only for staff but also for contractors, consultants, non-execs and secondees.
A helpful 2016 report by the CSPL is here.
8. Effective Regulation: Larger Organisations

Do senior staff understand the cultural and behavioural pressures that can cause catastrophic failure in the regulatory compliance of larger organisations?  These might include:
The Principal-Agent problem
Herd behaviour
Groupthink, and
The MacWhirr Syndrome
A detailed description of these pressures can be found here.
9. Effective Regulation - Individuals & Smaller Organisations

Has the organisation developed a suitable range of relationships with the individuals and smaller organisations within the various elements of the typical regulatory spectrum: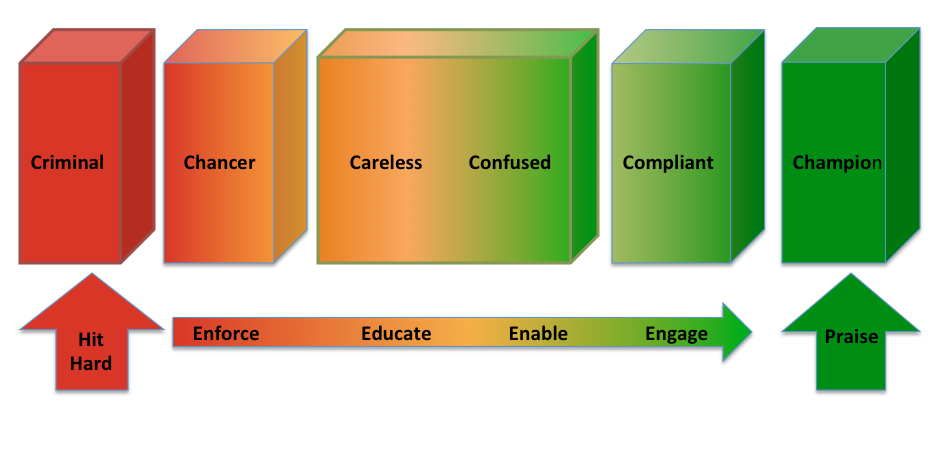 More detailed advice about the regulation of the activities of individuals and smaller firms may be found here.
Other Guidance
The NAO have published a useful good practice guide Performance management by regulators.